A-Frames are a signage concept that has stood the test of time. Portable, attractive and functional, A-Frames come in a range of sizes and types to suit any application.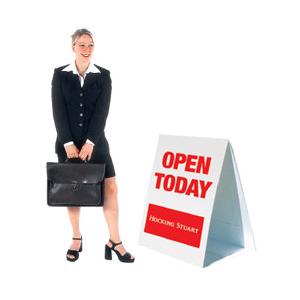 Low cost, versatile, easy to transport. Corflute A-Frames take the impact of the traditional A-Frame sign and repackage it in a low-cost, verstaile and highly portable design. Manufactured from a single piece of corflute that has been scored to fold and assemble in a triangular shape. Wind resistance can also be attained with the addition of sandbags or other ballast across the centre panel.
---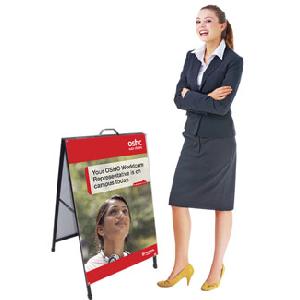 Sturdy and durable. A time-tested signage solution. Simple and inexpensive, yet effective and rugged, the colorbond A-frame is a popular choice.
---
The best of both worlds. The Corflute A-Frame gives you the best of both worlds. Utilising the rugged construction of a traditional metal A-Frame, this product delivers the added versatility of lightweight, interchangeable graphics panels so you can change your signage to suit your business.